Fitness Run For Fun
Start your Fourth of July celebrations on a healthy note! The La Palma Fitness Run for Fun offers more than just a typical running event - it's a chance to connect with your community and experience that small-town, hometown feeling. Spend quality time with your loved ones, neighbors, and friends while prioritizing your health and wellness through a fun and engaging run, walk, or stroll.
After completing the race, make sure to swing by Central Park for a delicious pancake breakfast, generously provided by the La Palma Kiwanis Club. Stay for the award presentations at the Park Pavilion, which will begin at 9:15 AM. Don't miss out on the La Palma Community Services Department's exciting Family Fun Zone, which is always a hit. Join us for an enjoyable and healthy start to your Fourth of July festivities! Save the date: the 41st Annual La Palma Fitness Run for Fun will take place on Tuesday, July 4th, 2023.
Kiwanis Pancake Breakfast
Add a pancake breakfast to your registration for just $7.50
The La Palma Kiwanis Club will also be serving-up their annual Pancake Breakfast! Proceeds will continue to benefit their many community activities and student scholarships.
CALL FOR VOLUNTEERS
The City of La Palma asks you to join a team of volunteers for the 41st Annual Fitness Run4Fun! There are several opportunities available varying from registration check-in to food distribution and each volunteer will receive a complimentary T-shirt. If you would like to volunteer, please fill out the application below. Assignments and shifts will be sent out two weeks prior to the event date. Please check spam or junk inboxes as notices may be filtered out. Contact Recreation if a notice isn't received.
| Start Time | Event |
| --- | --- |
| 6:00 a.m. | Check In & Registration Opens |
| 7:30 a.m. | Start of 5K Run, 5K Walk, & 10K Run (Competitive Events) |
| 7:30 a.m. | Kiwanis Club Pancake Breakfast Begins |
| 8:30 a.m. | Family Fun Zone Opens |
| 8:30 a.m. | Start of the Yankee Doodle Dash (Non-Competitive Kid's Run) |
| 9:15 a.m. | Awards Ceremony |
Course
Competi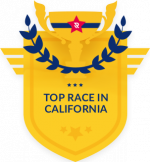 tive events are USATF sanctioned and certified flat, fast course on asphalt streets. The course is well-marked and with multiple water stations along the route. Traffic will be controlled by the La Palma Police Department. The 5K race is 1 loop (3.1 miles) and the 10K race is 2 loops (6.2 miles). Please note there is only a 5K Walk, no 10K Walk. Split starts for each the 5K Walk, 5K Run, and 10K Run to ensure distance accuracy. Official timing ends at 9:00 a.m.
| All-Time Records | 10K Run | 5K Run | 5K Walk |
| --- | --- | --- | --- |
| Men | 29:42 | 14:13 | 23:28 |
| Women | 34:55 | 16:28 | 28:48 |


Awards
$100 Cash Card Awards will be presented to the overall first place male and female competitors in the 10K Run, 5K Run, and 5K Walk. 1st, 2nd, and 3rd Place commemorative awards will be presented in all competitive divisions for both men and women.
Yankee Doodle Dash
Kids! Join us in the 9th Annual Yankee Doodle Dash, a race geared for children 2 – 12 years old. This non-competitive run will have two starting points based on age or ability. The 1/5 mile run (6 – 12 year old) will start in front of Bank of America, while the 1/10 mile run (2 – 5 year old) will start in front of the Orange County Library - La Palma Branch. Each runner will receive an official race bib and a participation medal. Although this race is intended for kids, parents are welcome to run with their children. Registration is required for this run and space is limited.

Family Fun Zone
The Family Fun Zone has plenty to do for families of all ages! Kids will have a blast jumping in the inflatable jumper or being creative making patriotic arts and crafts. Join us and we'll guarantee a healthy and fun start to your 4th of July!
Street Closures
Please note the following streets will be fully closed or partially disrupted, until approximately 10:00 a.m. on Tuesday, July 4, 2023:
Walker Street (Crescent to Thelma) starting at 6:30 a.m.
Walker Street (Thelma to Houston) starting at 7:00 a.m.
Houston Avenue (Walker to Moody) starting at 7:00 a.m.
Houston Avenue (Chartres Lane, Toulouse Drive, and Orleans Lane) starting at 7:00 a.m.
Moody Street –Number 2 northbound lane (Houston to Crescent) starting at 5:00 a.m.